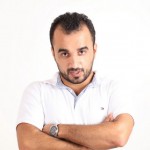 ilker was born in 1981. The word "ilker" means "the first warrior" and honestly, ilker is the first and only male child in his family. İlker married with Aslı in 2012.Once upon a time, ilker found himself at the gates of a university in istanbul. After spending 5 years at the university, he graduated and got his first job as graphics designer at "Enerji Fuarcılık Basılı Yayıncılık Matbaacılık". ilker worked at that company for 2 years and then quit to fulfill his military service. 6 months later, he returned back to istanbul and started working at "REPAR" agency. He's been working at REPAR since the summer of 2005 as graphics designer.
Other details…
Photography is the most important hobby for ilker. He bought his first camera in 2005, a CANON PowerShot S3 IS. After 2 years, he upgraded to a true DSLR, a Canon EOS 20D with a couple of lenses and various accessories.
İlker also enjoys tech, tracking, swimming, paintball and extreme sports like pragliding and rafting.